APARTMENT 2 bedrooms (3 + 3 < 16 years)
View of the main room with balcony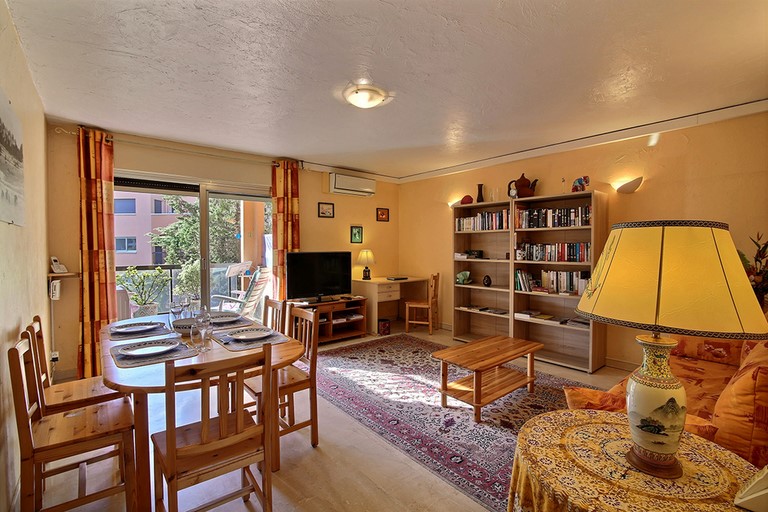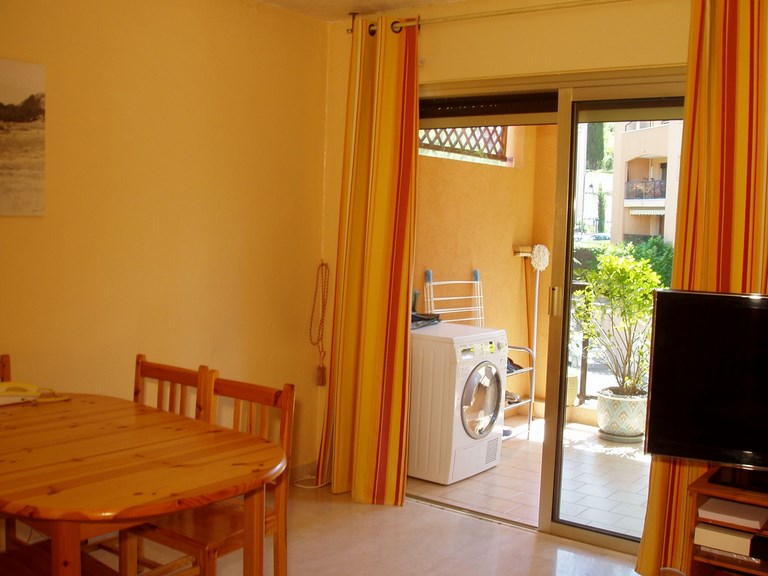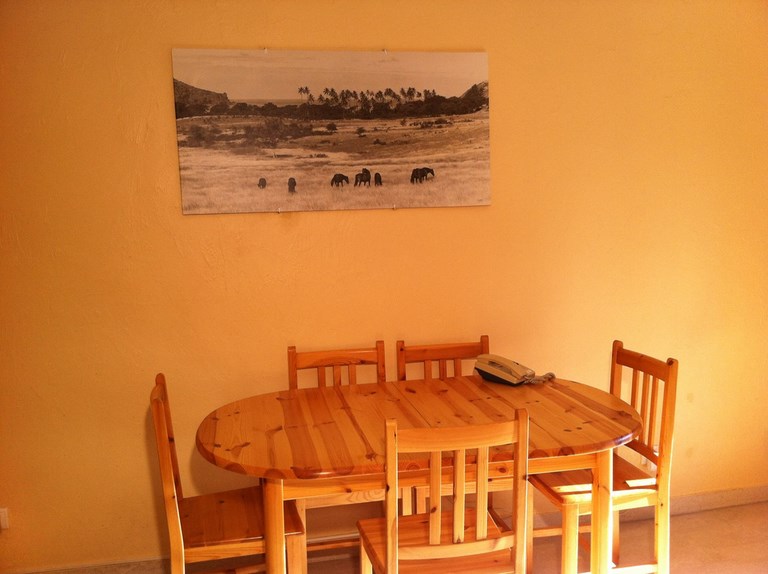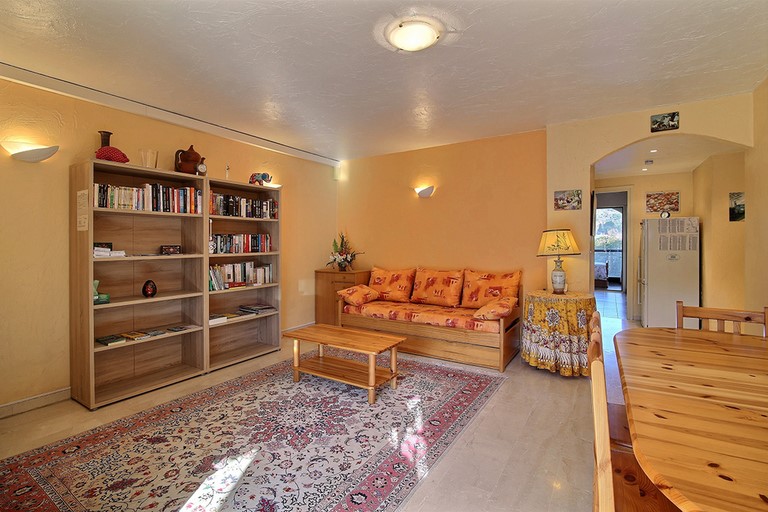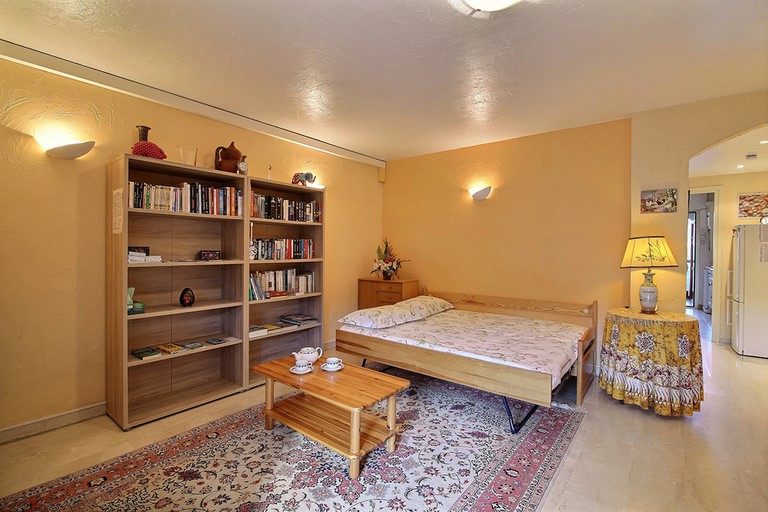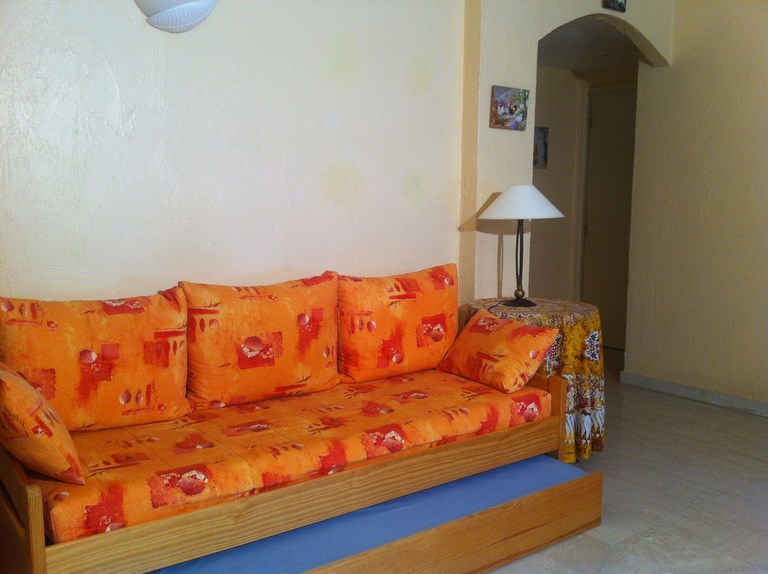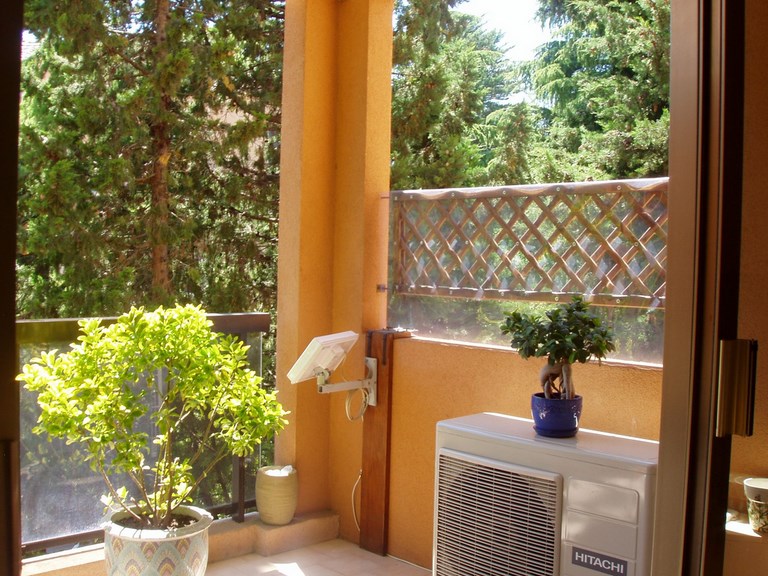 This apartment, ideal for couple with children or three adults, is located on the second floor of a small 3 level building in a quiet area near the historic Village of Mougins, between sea and mountain. RATED 3 STARS BY GÎTES DE FRANCE on October 8, 2014, renewed on 24/9/2019.
Available for vacation rentals all year round.
3 rooms; total area: 54 m²,
Initially, a 2 rooms apartment accross the buildinfg with 2 balconies, transformed in 3 rooms with a single covered balcony , facing South
1 common square room, air-conditioned, 22 m², with flat screen TV (TNT + SFR TV & foreign channels+ Netflix, Primevideo+Disney+) WIFI / Fiber, communicating by a sliding Bay window with South balcony.
Table with 6 chairs (Ikea style), table and lounge chairs, wooden support sofa forming comfortable bed (1.90 x 0.80 m) and containing a second mattress (1.85 x 0.80 m) for young children, in the drawer below (see photo).
1 Air-conditioned room (9 m²) with double bed (1,60 x 2 m), wardrobe, table bedside lamp, radio, door communication with the second bedroom by glass door (+ electrical shutter) .
1 air-conditioned room, former balcony converted into a small bedroom (7-8 sqm), cupboard, table bedside lamp, bay windows with views of the mountains of Grasse / Mouans-Sartoux. Bed (0.90 m x 1.80 m) with additional mattress (1.80 x 0, 90 m) in the drawer below, for young child (see photo); second glass door to kitchen + electrical shutter.
Fully equipped kitchen: 3 induction plates, oven, microwave, refrigerator, range hood, dishwasher, coffeemaker, Toaster, kettle etc...
1 Bathroom with window, hot water tank 250 l, new shower, washbasin, washing machine (electric dryer on the balcony).
1 Closed Garage in the basement with elevator to the third floor. (Suitable for small and medium cars only with overall height less than 1,82 meter.)
. .
LOCATION-TRANSPORT-ENVIRONMENT
Geographical location:
not far from the village of of Mougins, 450 metres walk to the many shops and centre commercial of Tournamy /Val de Mougins; Carrefour Market, etc...
Building:
Second floor of a 3 storey building with elevator, covered balcony looking south on an inner courtyard and the Hill of Mougins. (The apartment is on the most farther side of the building from the street).
Transport:
There is a busstop at the Commercial Center (450 m) allowing easy Roundtripping to Cannes (approximately 10/12 minutes) or Mouans-Sartoux station (3 minutes).
For anyone wishing to be quiet, with easy access to Cannes, a car is not necessary.
Environment:
Just below the historic village of Mougins also well known for its gastronomy.
TRAINS timetable
Mouans-Sartoux station 3 to 5 mn by bus, allows easy access to the city of Grasse, Cannes, Antibes, Nice and the Italy.
Similarly, it allows to reach the TGV and ITGV network at Cannes.
Schedules can be found on the site SNCF and T
The BUS schedule
Several BUS lines pass through Mougins and reach the Mouans-Sartoux station in a few minutes.

In the other direction, frequent buses take you to Cannes in 15 to 20 minutes depending on the season.

Palm Express line (Cannes-Mougins-Mouans Sartoux every 30 minutes in both directions)

Other interesting lines: 600 Grasse-Mouans-Sartoux-Mougins-Cannes.

A ticket costs only 1.50 euro.

The bus stop is at the shopping center, behind the apartment.